Residence & Conference Centre - Oshawa
http://stayrcc.com/properties/view/index/Oshawa/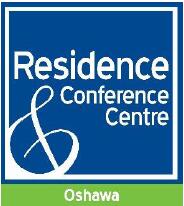 Located on the Campus of Durham College and Ontario Tech University
Durham College and Ontario Tech University is a SMOKE-FREE CAMPUS
(A) 32 Commencement Drive, Oshawa, Ontario, Canada L1G 8G3
(T) 905-728-8700
(F) 905-721-3152
(E) oshawa@stayrcc.com
(W) www.stayrcc.com/oshawa
Group Name: 2019 SEGE
Dates: August 12-15, 2019
Accommodation:
• South Village Residence – Two Bedroom Suites
Each of our suites consists of the following:
• Private Two bedrooms: each bedroom consists of one double bed, one desk
• Kitchenette: equipped with a bar sized fridge, sink and microwave
• Three-piece washroom
• Television, wireless internet, parking and local calling are all included
• Each suite has control over the temperature in the unit
RATE: $69.95/night + HST (13% tax)
Continental breakfast: $4.38/person + 13% tax
Hot breakfast: $8.60/person + 13% tax
Instructions to book online:
1. To book online: https://app.thebookingbutton.com/properties/oshawadirect
• Enter both the arrival and departure dates
• Within the Promotional Code Box enter Promo Code SEGE8200 and click Apply
• After, proceed to Click - Show Rates
• Once the rate appears click Book to Reserve
2. Please make reservations by Friday, July 26, 2019. If guests have not booked a room by the indicated date, the discounted rate will no longer be available.
Instructions to book by phone:
1. To reserve by phone, call us at 905-728-8700 ext. 8000 and reference the Promo Code: SEGE8200